The 7 Bridges Walk in San Diego is heralded for being a breathtaking experience with gorgeous natural elements and an outdoorsy vibe that will make it memorable immediately.
If you are someone passionate about enjoying the natural sights in San Diego then you are going to want to have this trail on your list.
What is the 7 Bridge Walk in San Diego?
This is a 5.5-mile trail that cuts through a variety of natural sights spread throughout the San Diego area. It interlinks seven bridges in the region including the Cabrillo Bridge, First Avenue Bridge, Quince Street Bridge, and Spruce Street Suspension Bridge.
We recommend this trail because it's easy-going and can be managed by anyone. It can even be done with kids.
If you are looking to explore San Diego then it's time to start with this specific loop.
Here is a breakdown of the 7 Bridges Walk in San Diego and what it's all about.
Where Is The 7 Bridges Walk In San Diego?
The interlinked loop that's 5.5 miles long can be accessed from Park Boulevard. You will want to park close to the bridge at Balboa Park. This will provide access to the trail's starting point making it easy to begin the trek.
Please note this is not going to be a challenging loop.
You can access it from anywhere but most people do prefer beginning at Balboa Park as it is a scenic starting point.
You can spend time taking photos here and then begin.
Tips For Going To The 7 Bridges Walk
Start Earlier In The Day
We recommend starting earlier in the day.
This is similar to when you are going to the La Jolla Swings. We find going earlier in the day is ideal as it will allow you to beat the rush while also getting to enjoy the beautiful sights when the sun is out. You will get to see more of the natural beauty this way.
Most people are going to take their time walking the 5.5 miles, which is why having added times makes it easier to complete the loop.
Otherwise, you are going to have to turn back.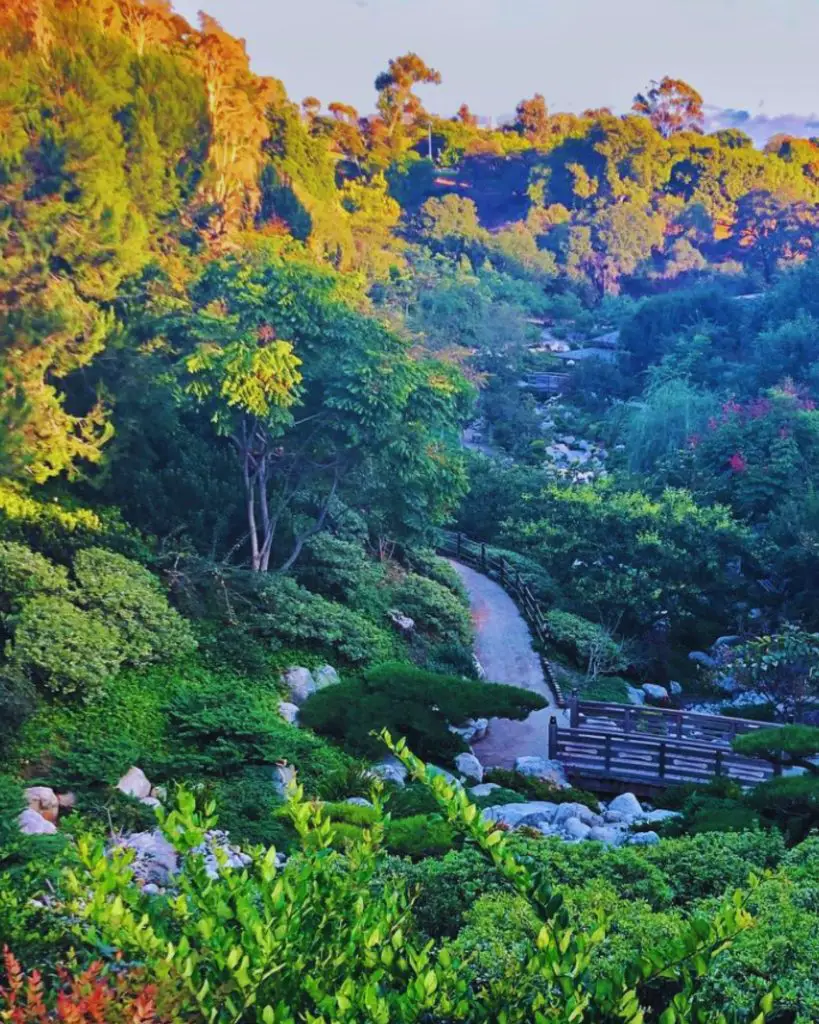 Aim For A Cooler Day
What type of day is good when going to the loop?
We believe it is best to go on a cooler day. The reason comes down to the length of the loop and how long it's going to take to see all of the sights that come along the way.
5.5 miles will be taxing on the body and you need to be prepared for it. Going on a hot day is not impossible but you are going to be applying more pressure on the body while going on the 7 Bridges Walk.
For the most part, San Diego tends to have good weather, so you won't be in too much trouble.
Be Prepared For A Long Walk
It is going to be 5.5 miles long.
This is an essential point because that is a long walk. While it is not going to be tough terrain and it is going to be quite straight, you will still want to be prepared for a long walk.
5.5 miles on any terrain will be taxing on the body, so be prepared for this.
People of all ages can do it but you need to be prepared for it. This includes bringing a few snacks and water bottles.
Take Breaks
Are you taking the time for breaks along the way?
Don't attempt to rush through the loop as that is not going to let you enjoy what you are seeing all around you.
Whether it is the bridges, parks, or other natural sights that come along the way, it is best to take it all in. This will be appealing as you are going to get to soak in the natural sights and also appreciate the natural beauty that comes along with a loop such as this one.
We find it to be enthralling and a great experience for anyone visiting the area.
Final Thoughts
Look into this guide on the 7 Bridges Walk in San Diego if you want to do things the right way.
The 7 Bridges Walk in San Diego is an urban hike spread across 5.5 miles. It is a looped trail, which helps interlink the seven bridges including the Park Boulevard Bridge, Cabrillo Bridge, Quince Street Bridge, and Spruce Street Suspension Bridge.
Before heading back for a coffee in San Diego, it's nice to enjoy this trail and all that it has to offer. We find this to be an urban hike that's ideal for most people and it offers access to a number of sights in one shot.
You should take advantage of this when you want to have a bit of fun.
Amanda Harper is a travel enthusiast with 10+ years of traveling experience across the planet. Her passion for writing and travel makes her a walking bibliography on modern-day tourism.