When you are taking a trip to the San Diego Zoo, it's important to plan things out.
This not only includes buying San Diego Zoo tickets but also making sure you are aware of how your time is going to be spent on-site.
A lot of people only think about the animals and/or the tickets, but it's just as important to consider what you are going to eat when you are at the zoo.
This is where we come in.
We are foodies, so we always have an eye out for what we are going to be munching on while visiting San Diego attractions.
If you are going to be driving to San Diego and visiting the zoo, it's essential to map out a plan for what you are going to be eating.
Here are our favorite restaurants at the San Diego Zoo.
Best Food At The San Diego Zoo
Kettle Corn
Kettle Corn is the real deal and one of our favorites.
What makes it such an incredible place to eat at the San Diego Zoo?
It starts with the churros as they are scrumptious and will make your mouth water as soon as you see them. Plus, they offer a wide array of drinks including beer depending on what you are going for.
Kettle Corn is an exceptional option and you are going to enjoy the kettle corn here.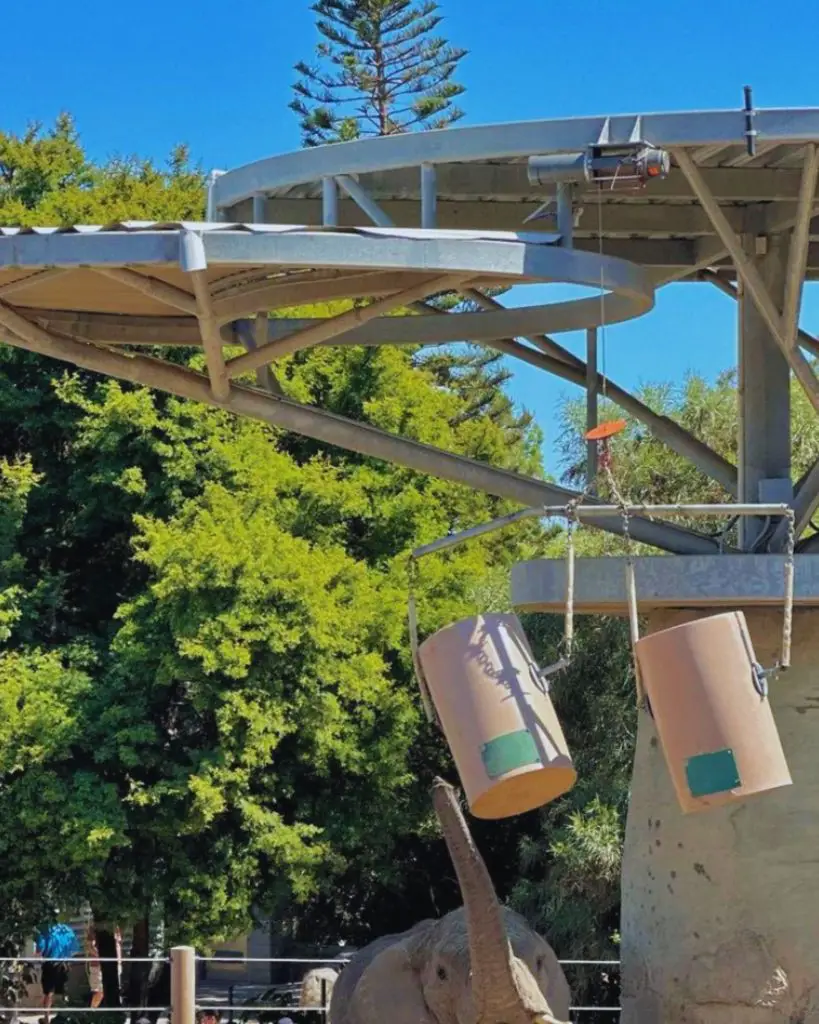 Sweets And Treats
Do you have a sweet tooth?
When it comes to the best desserts at the San Diego Zoo, it's essential to note Sweets and Treats as a winner.
The quality of the cookies and the desserts will blow you away. We felt this was one of the most delicious places on-site for those who want to get a sugar high.
It is common for kids to want to stop here because the colorful treats are going to win them over. Even adults are going to have a great time here.
Hua Mei Cafe
Hua Mei Cafe has been around for decades and is one of the most cherished locations at the zoo.
We enjoyed this option because it was wonderful and historic. Just being able to experience a cafe that has been around for a while is always fun.
Plus, the coffee was great and that doesn't hurt!
We recommend taking the time to stop and get your coffee here because it will taste great and add to your time at the zoo.
San Diego Zoo Sandwich Company
Grabbing a sandwich is always nice.
The San Diego Zoo Sandwich Company is a good one because it offers a more relaxed experience. You are going to walk in and have a great time while also being able to go through a wide array of sandwiches based on what your taste buds want.
We were able to enjoy a cup of coffee and a good sandwich here because it was delicious. The chicken sandwich is out of this world and well worth your time.
Busy Bee Cafe
This is another cafe at the San Diego Zoo and we adore this one too.
It is a nice one because it is modern and sleek. The options are great and they have something for everyone and it is given in a unique way.
For example, we were able to order hot dogs and they gave them in a bucket. Yes, a bucket!
It was a unique experience but we adored this about the experience. It is a great option for those who want to enjoy quality hot dogs or perhaps pizza at the zoo.
Sabertooth Mexican Grill
The Sabertooth Mexican Grill is a top-tier option for those who want a Mexican grill.
This is a fantastic restaurant.
You are going to have a wide array of options to choose from including wraps and burritos to name a few. Anything you can think of, you are going to get here and the staff is world-class too. This added to our experience at the restaurant.
It is one of those experiences where you are going to enjoy the grilled taste instantly. It is rich, unique, and delicious just the way it should be.
Front Street Sweet Shack
The last one on the list is going to be the Front Street Sweet Shack.
This is a heralded place because it is one of those eateries that is ideal for those who want a quick sweet on the go.
We enjoyed the famous doughnut burger, which is what they are known for. However, the shakes were also great at this location.
Final Thoughts
These are the top restaurants at the San Diego Zoo.
It's easy to find good food at the zoo. There are several high-quality eateries whether you are looking for a full meal or a quick dessert.
There is something for everyone including kids.
You can find the best coffee in San Diego here and also quality restaurants depending on what you want.
Amanda Harper is a travel enthusiast with 10+ years of traveling experience across the planet. Her passion for writing and travel makes her a walking bibliography on modern-day tourism.