Dubai is renowned for its scorching hot weather.
After all, it's set in the desert and the searing heat can become difficult to handle without a bit of time in the water. For those who want to go for a swim or participate in water activities, it's essential to look out for good water parks in Dubai.
We have spent a considerable amount of time looking out for the top water parks in Dubai and have come up with several options.
Whether you want to spend money in Dubai or not, these are the best Dubai water parks.
Best Water Parks In Dubai
Aqua Fun Water Park
If you want to go to a fun, well-regulated water park in Dubai, it's time to head to the beautiful Aqua Fun Water Park.
This is a gorgeous water park that offers an inflatable design. It's in an easy-to-reach part of Dubai on the Jumeirah Beach Residence and is ideal for those who want to have a lot of fun and enjoy different water activities throughout the water park.
We find this to be an enthralling option for those who want to have a good time.
Follow the laws of Dubai at this water park and enjoy what the various obstacles have to offer.
Legoland Water Park
For those who reside in Dubai, it's common to hear about families heading to the Legoland Water Park.
It's an exceptional water park that's beautiful and offers a delightful look into the world of Legos. This is a water park that is ideal for those who want to take the kids for a bit of Lego-related fun.
Everything here is based around Legos, which makes it fun for those who build them at home too. You are going to see those creations come to life here and it's going to be set around the theme of water.
It's one of the best places to be even for those who are not fans of traditional water parks.
Aqua Parks Leisure
Aqua Parks Leisure is a world-class Dubai water park.
It's uniquely designed because it has a pool aesthetic that offers something different from other types of water parks in Dubai. In this location, you are going to have a wide array of pool-related features set up in one spot and that's going to include obstacles.
It's common for people to come out with the family and have a great time at Aqua Parks Leisure.
Iceland Water Park
This water park is at Ras Al Khaimah and is a fascinating water park due to its ice-based theme. This means you are going to see various names and features that are associated with places such as Antarctica including penguins.
At this water park, you are going to have access to a long list of rides including the pool area. It's great to come out to the family, enjoy the cool water, and just experience the beauty of this water park.
Laguna Waterpark
The Laguna Waterpark is an interesting option and is often recommended for those who are more adventurous than others.
You get to enjoy sliding around and it's common for people to also make the most of the on-site rides. We like this one for those who are thrill-seekers because it has a more entertaining setup where you are going to get to experience something new.
For those who want to relax, you can do this too as there are various seating areas throughout the water park.
Wild Wadi Water Park
This is often one of the first names that pop up for those who talk about water parks in Dubai.
The premise is this is a beautiful water park that is on Jumeirah Road and offers a wide array of rides for families to enjoy. It's common for people to head out to this water park with their kids, take the rides, and just have a good time.
We adored the wave pool and the on-site water slide. It's a great experience and just the visual of this water park is enough to make you want to stay for hours.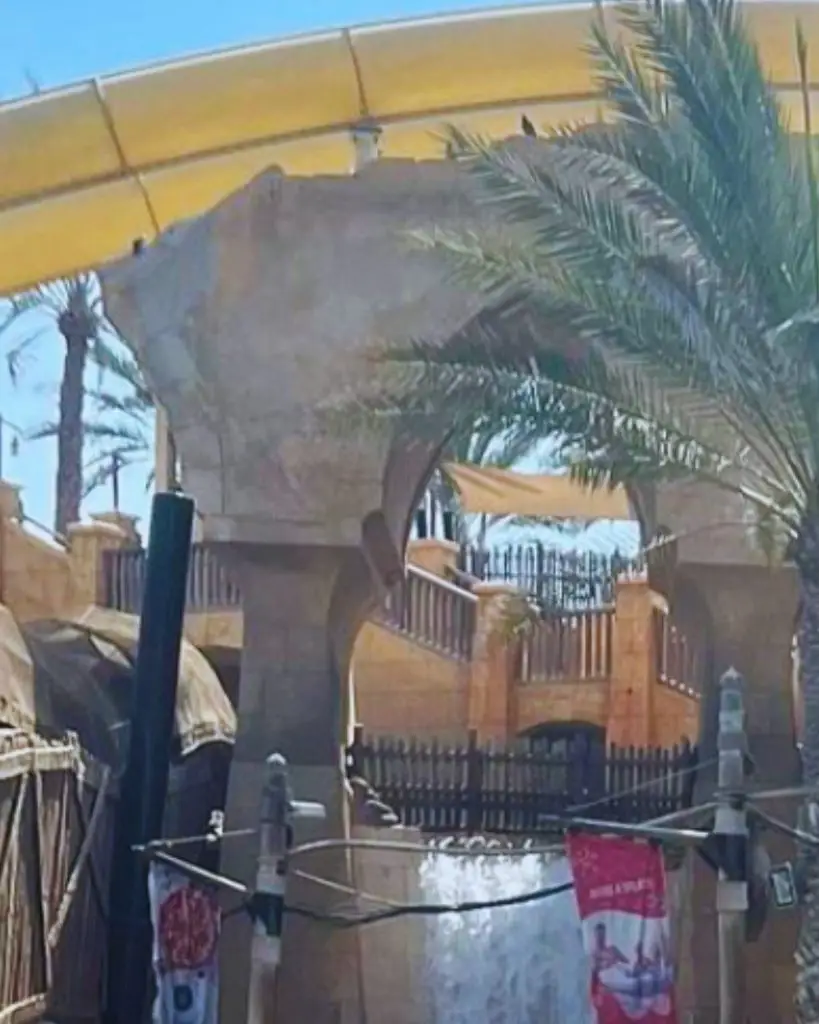 Yas Waterworld
The amount of detail that has gone into this water park is hard to beat.
The Yas Waterworld is one of the most delightful water parks on the planet. It's gorgeous, well-designed, and offers all of the water features you are on the hunt for.
We like how it is designed including the various slides and rides that are spread throughout the park. It's easy to spend hours here and not realize how the time has flown.
Atlantis Aquaventure
When it comes to sheer size, Atlantis Aquaventure is one of the largest water parks in the region and offers a selection of water-based features that are going to blow you away.
We adore this park because it's a tourist destination and a must-see for water enthusiasts. You gain access to fun rides and it's also full of slides that are going to let you experience the water park in different ways.
One feature that often stands out here is the shark lagoon. You are going to have sharks swimming around and they will be visible as you are enjoying the water activities. It can be a thrilling experience to do this while you are enjoying the rides.
Splash n Party
Splash n Party is an exceptional Dubai water park and has been designed for kids.
It's family-friendly down to the last detail making it perfect for those who want their children to have fun. This is due to the kid-friendly water features, how the rides are set up, and the amount of readily available food options.
Your kids are going to have a wonderful time here and in many cases, it's one of the best water parks in Dubai for kids.
Final Thoughts
These are the best water parks in Dubai.
All of these water parks are the real deal and showcase the beauty of Dubai. You will want to head out to one of these water parks during a hot day in Dubai and make the most of it.
Feel free to go through our guides on sending money from Dubai to the US, good recruitment agencies in Dubai, and how much it costs to stay in Dubai.
Amanda Harper is a travel enthusiast with 10+ years of traveling experience across the planet. Her passion for writing and travel makes her a walking bibliography on modern-day tourism.