If you aren't scouring the best flea markets in Los Angeles for used books, it's time to head to a Los Angeles library to quench your thirst for reading.
The library is a sanctuary for those who want a serene setting that is welcoming, charming, and perfect for reading a book or two.
The beauty of being in Los Angeles is that you are going to be inundated with quality spots for reading. This includes all of the local libraries in Los Angeles that are waiting for you to arrive.
Since we are avid readers ourselves, we will take the time to shed some light on good libraries in Los Angeles for you to visit.
Best Libraries In Los Angeles
Powell Library
Powell Library is a charming location because it is set up at UCLA, which makes it one of the premier libraries in Los Angeles right now.
The unique architecture that has historic intricacies dating back to hundreds of years has been done on purpose. This is an alluring building because it is not just what is inside but also how it has been built over time.
We appreciate its charming elegance and the overall vibe when you are inside.
You are often going to see students here due to it being on the campus. This makes it an exciting place to be for those who want to enjoy access to contemporary works and also network with those who are younger.
West Hollywood Library
The West Hollywood Library is a modern, easy-going location that is great for those who want to have a relaxing place to read.
You are going to not only enjoy the reading spots in this library but also the view that you are going to get to make the most of. We highly recommend taking the time to read a book while looking at the Hollywood Hills because that is a view that will take your breath away.
We love this spot and feel it is one of the most beautiful libraries on the list.
Pasadena Public Library
Sometimes, all you are going to want to do is read and go through a vast collection of books that will be on par with what you want as a reader.
When that is the case, you are going to have to take the time to go through the Pasadena Public Library's collection because it's exceptional.
We love the ambiance of the place and how the courtyard is set up in front of the library. This makes it a more traditional look that will be in line with what you want.
Pico Library
The Pico Library is housed in Santa Monica and has been around for a long time.
This is a charming library that has been around for a long time and it is one of the more fascinating libraries in Los Angeles.
We like this location because it is sleek and it has a fascinating canopy that is going to stand out as soon as you walk in. We also adore the collection that is on offer for those who want to make sure they are gaining access to all of the books that you are going to want to go through one by one.
Hoose Library of Philosophy
The Hoose Library of Philosophy is an underrated Los Angeles library.
This is a library that is set up at USC and has been around for a while. The reason we like this library over the others on campus has to do with its architecture.
As soon as you are in the building, you are going to be mesmerized by the windows. They have a stained-glass finish that is exceptionally beautiful. It is something you are not going to be able to take your eyes off of as soon as you are there.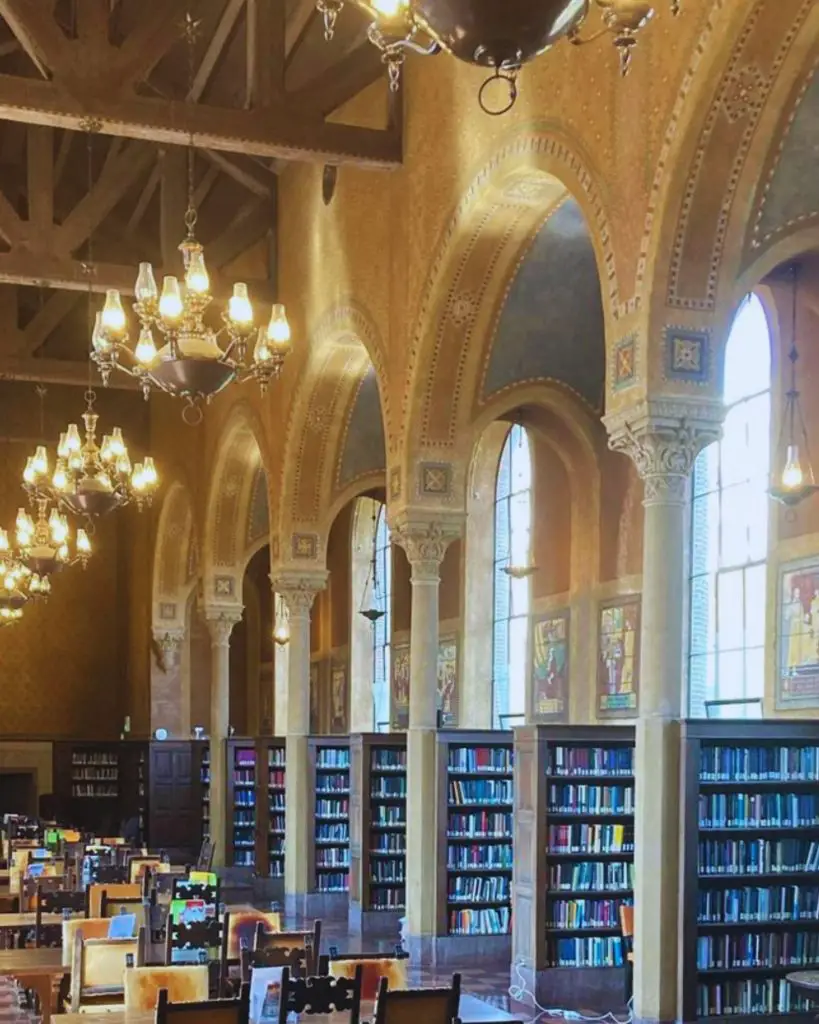 Los Angeles Central Library
This is going to be the first library a person is going to think about when it comes to LA.
With the best Los Angeles libraries, it is this library that is going to stand out. It has a wide array of books from all parts of the world and the sleek architecture of the building is second to none. We find it to be appealing and welcoming for people of all ages.
It is also a library that has a dome, which is unique.
Memorial Branch Library
The Memorial Branch Library is one of those elegant branches that is going to impress you.
The overall charm of the library is going to come down to the Victorian touches of the building. This is appealing to those who not only want to find a good selection of books to go through but also appreciate the architectural intricacies of the structure itself.
This is what you are going to get to see at this branch instantly.
Doheny Memorial Library
This is another library that is built on the USC campus and it has been set up with attention to detail due to how long it has been around.
The library has high ceilings that are going to impress you as soon as you walk through the front door. You are going to notice the lighting and the overall charm of the place.
This is what appeals to us.
It is a fascinating library that will impress you and make you want to stay for hours.
Brand Library
Brand Library is a unique library because it is not like some of the others in the city.
The reason we were mesmerized by this library in Los Angeles had to do with how quaint it was. This was a library that had South Asian touches and it was built with an eye towards the finer details of what a building like this should look like.
It impressed us and it was quiet too.
Final Thoughts
These are the top libraries in Los Angeles for those who want to read, explore, and simply have a great day out.
If you are looking to have a good time, you are going to adore the libraries here.
We also recommend reading our guides on the safest spots in Los Angeles, good places for wines in Los Angeles, top romantic areas in Los Angeles, and our favorite Los Angeles bridges.
Amanda Harper is a travel enthusiast with 10+ years of traveling experience across the planet. Her passion for writing and travel makes her a walking bibliography on modern-day tourism.