The Sunset Cliff Caves are well-regarded for being a breathtaking spot nestled along the coastline of San Diego.
It's cherished by people that visit as it's a rare natural wonder that's easy to be mesmerized by. Those going to the Sunset Cliff Caves often state it is a memorable experience unlike anything else in this part of California.
We feel this is one of those hidden gems that you will want to have on your list.
The Sunset Cliff Caves in San Diego are located on the coastline of San Diego with charming cliffs, natural beauty, and caves that are ideal for great photos.
We recommend putting this on your list of places to visit in San Diego.
For those who are interested in seeing the Sunset Cliff Caves, this comprehensive guide will let you know everything there is to know about the attraction.
Where Are Sunset Cliff Caves In San Diego?
Address: 800-898 Sunset Cliffs Blvd, San Diego, CA 92107
To be specific, the Sunset Cliff Caves in San Diego are situated along the coastline. The area is cherished for being a hidden gem that offers exceptional natural beauty and is a sight to see for those who make it all the way into the caves.
It's common for people to visit the Sunset Cliff Caves.
For those who wish to go to these caves, you will start with the main area. This is going to be near the top of the cliffs in the Sunset Cliffs Natural Park.
You are now going to walk with the cliffs.
The aim here is to get down, which is only going to happen when you find the route that will allow you to descend from the top.
Most people are going to aim for the easier route, which is going to take them to the beach area. From this point, you are going to continue to walk along the cliff until it finishes. When this occurs, you are going to find a spot that allows you to go down.
This is going to be a path.
The path is going to allow you to go to the beach area. From this point, you will continue to move to the left and aim for the cave. It is common for people to find this part to be challenging and that's okay. As long as you are wearing good running shoes or hiking shoes, you will be good to go.
We recommend taking the time to slowly enjoy the sights around you while doing this too. Don't rush to get to the finish line!
As you are doing this, you will want to stay to the left until you get to the cove. At this point, you should see the entrance to the cave. You can go in from here.
Please note, there will be water depending on the time of day. Do not go in there when the water is high.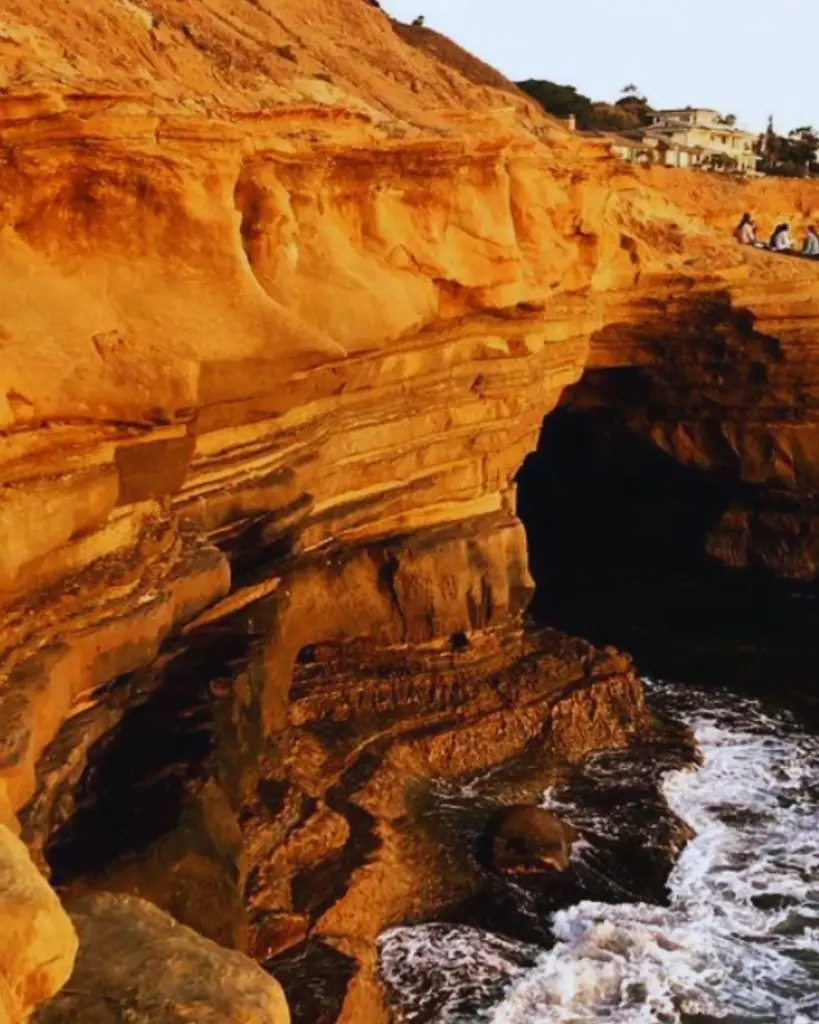 Tips For Visiting Sunset Cliff Caves
Wear Shoes With A Good Grip
Before you visit the area, it's time to look at your footwear and general attire.
It's essential for you to be dressed for the occasion.
What should you be wearing at Sunset Cliff Caves?
You should be wearing waterproof shoes whether they are hiking shoes or running shoes. They should offer good traction ensuring you don't slip on the rocks as there will be considerable water throughout the journey.
Aim For The Sunset
Timing is key.
The best time to visit is when it's a clear day and the sun is setting. The reason you want to get to the cave around this time is due to the burst of light that enters the cave as the sun sets.
This is due to the positioning of the sun as it lines up with the cave entrance.
You will want to make sure to go a little before this to start seeing the sun set in there. It will be quite the sight for you.
Be Prepared For Other Visitors
Don't assume you are going to be alone.
During the warmer months, it is common for people that love hiking to go to these caves. The idea is simply to enjoy what is known as a hidden gem simply due to it being slightly difficult to get to the cave entrance.
While it won't be packed, it is still going to have people that are looking to take pictures or just spend time in the area.
Be ready for this.
Be Wary Of The Tides
This is a key detail to remember and it is about your safety.
It is essential to wait for the water to recede. This is when the tide is going to be low and it's the only time you should be in the cave.
When the water is high, it is not a good time to be in there as it will begin filling with water.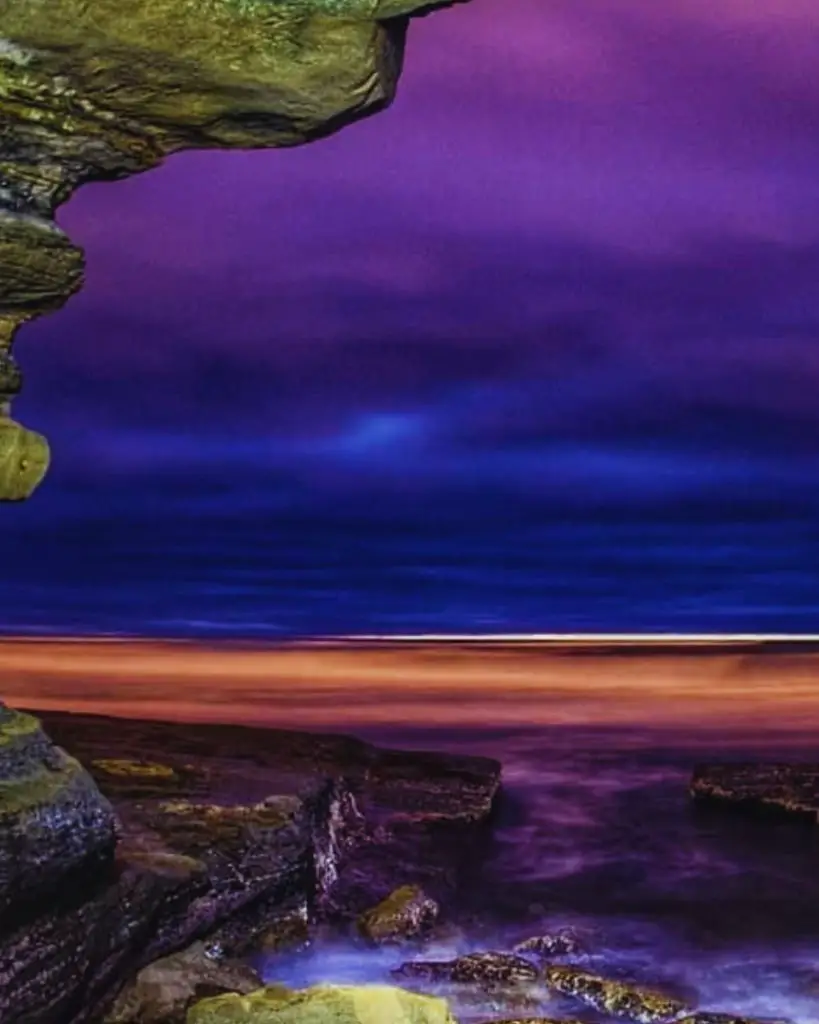 Reasons To Visit Sunset Cliff Caves
Gorgeous View
Why should anyone go to the Sunset Cliff Caves?
It comes down to the gorgeous view.
When the sun is setting or even when it is not, the view you are going to see from the cave is quite impressive. It's something you are going to remember for a long time to come and that's what hiking down to this area is all about.
Challenging Trek
It is important to note that this is not going to be an easy trek.
Let's assume you are taking the route we discussed in this guide. It is going to be difficult when you get to the path while descending.
This is going to have rocks in it and it is not a simple path like other areas around San Diego. This means you need good shoes and you have to be mentally prepared for a challenging trek.
On a warm day, it shouldn't be too bad but it is still something to be aware of.
Great For Photos
This is a great place to take photos.
If you start taking photos when the sun is setting, you are going to be blown away by the natural beauty. It is one of those experiences that will scream elegance because of how the light filters in.
Natural light is something special and you are going to adore it here.
Final Thoughts
This is all you will want to know about visiting the Sunset Cliff Caves in San Diego.
The Sunset Cliff Caves are located at the bottom of the Sunset Cliffs Natural Park. This is an area located along the coastline and is seen as a hidden gem. It offers a fascinating sightline when the sun is setting and tends to be adored by hikers.
We do recommend this for those who want to be outdoors and just see a unique spot that is hidden away.
Amanda Harper is a travel enthusiast with 10+ years of traveling experience across the planet. Her passion for writing and travel makes her a walking bibliography on modern-day tourism.