Having explored Monterrico in Guatemala, we wanted to continue our adventure in this beautiful country.
One of the more unique places on our list in Guatemala had to be Volcan Acatenango. This fascinating volcano in Antigua captivated our attention and made me want to go check it out in greater detail.
A lot of tourists will come to visit Antigua in Guatemala for this reason and rightly so.
It's a charming destination with all of the natural qualities you are looking for on an adventure. This includes fascinating hiking spots near the volcano.
Let's take a look at volcano hiking in Guatemala and what it encompasses for those who do want to explore this part of the nation.
Cost Of Hiking The Acatenango Volcano
As a tourist, you are going to want to get a read on how expensive it's going to be to hike the volcano in Guatemala.
Based on our experience, it's going to come down to the path you take. This includes whether or not you are hiring a guide to climb the volcano.
Let's begin with the basics.
We had to pay rental fees for hiking equipment, which was around $25 but sometimes you can pay a bit less. We also had to get some food for the hike, which cost around $8.
Some porters are going to manage your bags, which will come out to be $20 both ways.
There is a separate fee at the gate to hike the volcano, which you are going to have to pay. It is going to be around $15.
The last fee is going to be for the local guide and we had to pay $75, which is not bad for the entire experience. It was fun and we got to see a view that's impossible to beat.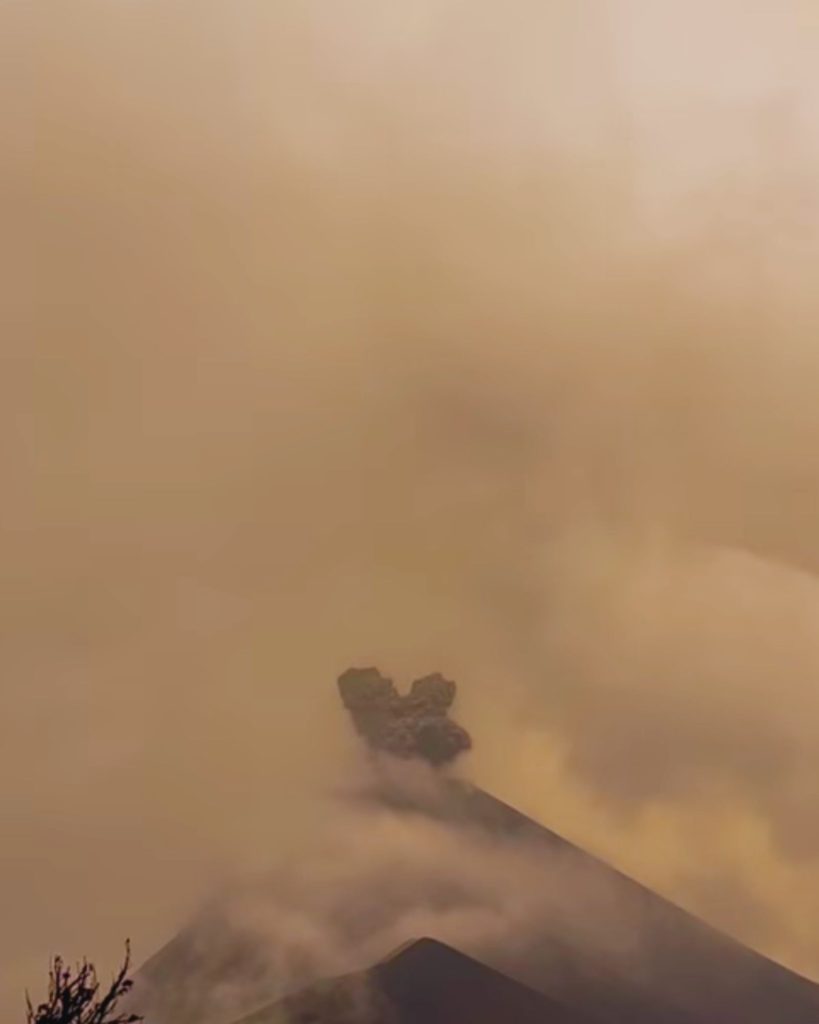 How To Get To Volcan Acatenango
When hiking a volcano in Guatemala, it's important to get to Antigua as that's where the stratovolcano is situated.
In most cases, you are going to be flying to Antigua.
If so, you are going to want to come to the region closer to the volcanos as that is going to make it easier for you to also get a good vantage point of the stratovolcano in Guatemala.
Hiking Volcan Acatenango In Guatemala
Volcan Acetenango has not erupted for centuries but it continues to be one of the most intriguing places to hike for those who are adventurous.
We knew it was a dormant volcano in Guatemala and that did intrigue us. It's calmer and easier to hike around the Acatenango Volcano and that's what drew us to Antigua. It's important to note the volcano is special because it does not have one center.
It has multiple centers, which makes it what is known as a stratovolcano.
Our goal was to hike the area and see the volcano from up close.
Now, what is the real charm of hiking this volcano in Guatemala?
It has to do with the other volcano in the form of Volcan Fuego and as the name suggests, this is full of fire. It packs a punch and it is still live, which means you are going to see its smoke bustling into the air from afar.
As a result, a lot of people love hiking nearby and then taking a look at the volcano.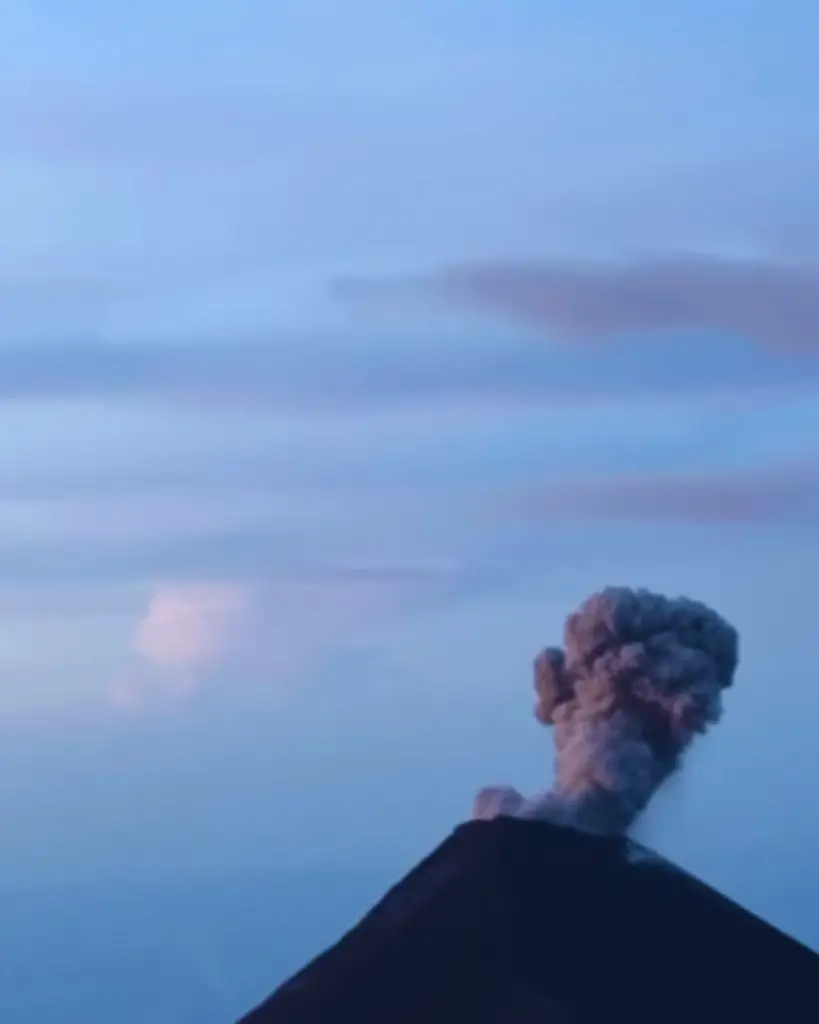 Overnight Hiking At Acatenango Volcano In Guatemala
One of the experiences we wanted to have had to do with overnight volcano hiking in Guatemala.
This includes getting an even better view of the nearby active volcano by getting to the top of Acatenango.
In general, it is not an easy hike and it's something you are going to have to be prepared for. In general, we find this to be a relatively safe volcano to hike overnight in Guatemala and you are going to be fine.
The real concern has to do with the toll it's going to take on you physically. It is a battle and it's not for beginners. In general, it's common for people to get tired due to how the hike is set up. You are going to be working your entire body with the oxygen getting limited the higher you go.
It's not an ideal experience but it can be done by those who are physically fit and ready for this ordeal to reap the rewards at the end!
When we were climbing the Acetenango Volcano, we found it to be challenging near the middle and then right at the end. It's not an easy hike and you are going to start to feel worn down after the halfway point because of the thinning air.
However, we continued to fight through it.
It took us approximately seven hours to hike Acatenango in Guatemala.
This is a general pace most hikers take when they are going up the volcano and it's going to vary as some are going to be slower than others. We have noticed others take an hour longer, while more experienced hikers are going to get things done in less than six hours.
Of course, you are going to have to take another two hours to come back down.
We had a two-day hike in the area.
This included getting up to the top on day one and then coming down on the second day. It's a fascinating viewpoint and an experience you are not going to regret once you are there!
Should You Hire A Guide To Climb Volcan Acatenango?
This is a common question we have received from other tourists.
In essence, you are going to want to have a guide on hand. They are going to be locals with ample expertise in managing the hiking trails near the volcano. This is the type of information you are going to need with thinning air all around you.
Doing it without a guide is dangerous and not worth it.
We would never recommend hiking a volcano in Guatemala without a professional. It's the type of risk that can cost your life if you are not careful. The guide is not only aware of the hiking trails in the area but also the conditions allowing you to hike at the right time both going up and coming down.
Our Experience Hiking The Acatenango Volcano

Now, let's break down how our experience was in a more detailed fashion.
It all started with getting the local guide to go through the route and what was required to maximize our trip. This included how long it would take, what was expected of us, and what the conditions were like. This was great information to have.
We then had a shuttle take us to the base, which is when we started prepping for the two-day hike.
When we started the hike, it was difficult right off the bat. It took a lot out of us because it's like a gut punch immediately. We were moderate hikers, so it can become even tougher for those who are doing it for the first time.
It is quite steep and you are going to feel it instantly.
We do recommend that you push for a bit because your body is going to get used to it. Once we got used to it, there was a rhythm to the hike that made it a lot easier.
You are going to be doing this for 6-7 hours, so it's essential to keep going. This is going to take you to the base camp.
This is when you can get a bit of rest and make sure you are enjoying the views of the Volcan Fuego. These are the views that you are not going to forget and it will be a lot of fun to see. It's something that will be locked in your memory forever!
When you wake up, you are then going to complete the hike.
This is going to take an hour or so and then you are going to have an even better view of Volcan Fuego. Please note that this hike is still not easy and you are going to have to put in the hard work. It's still going to be quite steep.
Going down is not that hard.
You are going to be going down, so your momentum is going to help along with gravity. It is still a physical activity, but it's not something that's going to be as difficult as hiking upwards.
How To Prepare For Hiking the Acatenango Volcano
This is an important question for those who have never hiked a volcano before.
You need to be prepared and this includes what you are wearing and how you are getting ready for the physical exertion.
In general, you are going to want to have good hiking boots, and warm clothes, and make sure you remain flexible in your clothes. This is essential because when you are hiking upwards, it's not going to be easy to manage in rigid clothing!
We put on multiple layers including sweaters and a jacket. It gets quite cold at night, so be prepared for this mentally.
You are also going to want to invest in a headlamp because hiking in the dark is not idea. This is a great way to stay comfortable when you are in the dark and looking out around you.
We also took the time to pack some hydration salts because it was recommended to us. We took the time to use this as a way to keep our energy up because hiking is quite taxing on the body. You are going to sweat a lot.
Along with this, you are also going to want to buy good trekking poles. We rented them and they were quite robust. You should also stock up on water because of how taxing the hike is.
Final Thoughts
This is all you are going to need to know about hiking the Acatenango Volcano in Antigua. It's going to be the type of experience you are never going to forget.
Also, take the time to read about the best English-speaking countries in Central America.
Amanda Harper is a travel enthusiast with 10+ years of traveling experience across the planet. Her passion for writing and travel makes her a walking bibliography on modern-day tourism.