Black's Beach is one of those hidden gems you are going to appreciate when you arrive at the location and sit by the water.
The subtle waves, beautiful trail, and overall elegance of the beach cannot be understated. It's gorgeous and something you will admire right away.
While all of this is true, please be prepared for there being nudists around as it is a nude beach. Of course, this is not all spots of the Black's Beach but the deeper you go, the weirder it might get depending on the time of day. If you say on the south side, you will be fine as the nudists remain on the other end.
Black's Beach got its name from The Black Family from the area.
The name has stuck ever since and it continues to be a good option for those who want a quieter beach to enjoy when the weather is good.
Let's take a look at what Black's Beach in San Diego is all about.
Where Is Black's Beach In San Diego?
Address – Torrey Pines Scenic Dr. La Jolla, CA 92037
Phone Number – (619) 221-8899
Black's Beach is situated near the bluffs of Torrey Pines. It can be accessed by getting to Torrey Pines Scenic Drive.
We recommend this beach for those who want to enjoy the warm weather, go for a surfing session, and simply see what the sand has to offer. Plus, it is quite a gorgeous hike if you are up for it. The ascent is steep but it works well for those who are used to hiking.
Tips For Going To Black's Beach
Avoid Swimming Here
It's important to note swimming is not ideal here.
The reason comes down to portions being rough on the body and not being easy to get out of. We recommend staying on shore while you are at Black's Beach and finding another spot for swimming, especially with kids.
Most people are going to surf in specific spots but they will have far more experience in the water. The average visitor should not be swimming here.
It will not turn out the way you want it to.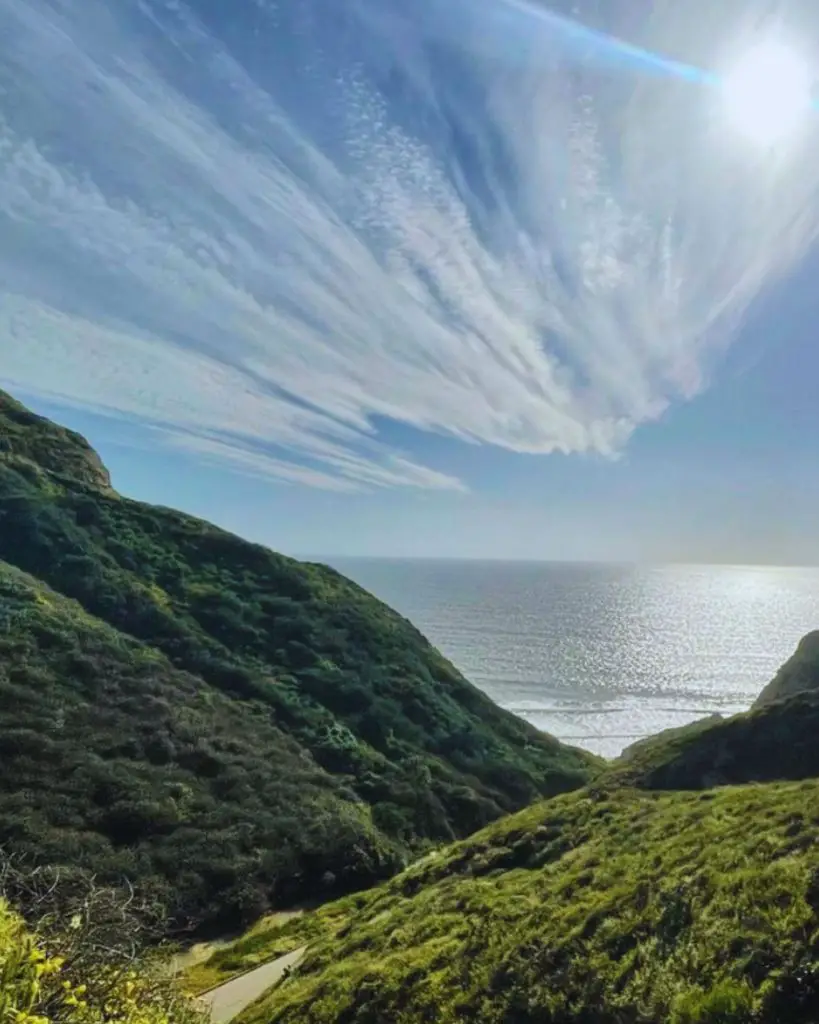 Be Prepared For Steep Hiking
The hiking trail is 1.1 miles long and it is quite gorgeous.
We feel this is an experience you are going to want to have as long as you are prepped for it. How should you prepare for going to Black's Beach in San Diego?
We would look at wearing hiking shoes and making sure you are not holding too much weight in your hands while you are ascending. This is key when hoping to maintain your balance as you go up the trail.
As long as you do this, the view you are going to see is going to be breathtaking.
Stay Close To The Trailhead
One thing people will fret about is entering the wrong side of the beach and getting a full dose of nudity. We will talk about this in the next tip but it's important to know where to park when you are coming to Black's Beach.
This might be even more important than any other beach you go to in San Diego.
The best spot to enter the park would be near the trailhead. This is going to be a spot that is kid-friendly and you should be fine to walk around.
Any other spot is going to be dicey if you are attempting to avoid nudity.
Be Prepared For Nudity In Secluded Spots
Now, let's focus on the nude beach aspect of Black's Beach.
You will want to avoid this for the most part unless that's what you are aiming for. If you don't mind the nudity, you can skip this tip.
For those who don't want to see the nudity, it's important to note the south side of the beach is clear. You will not see nudists there.
This is due to the local law stipulating no nudity on the south side of the beach. It is often reserved for secluded areas.
No Dogs Allowed
If you are a dog owner, you will want to know it is not ideal to bring dogs here as it is not a dog-friendly beach.
You will want to look at other beaches in San Diego if that is what you are hoping for.
Final Thoughts
Blacks Beach in San Diego is a gorgeous spot and a must-see for those who are in town.
Black's Beach is a premier hidden gem in San Diego and is a good option for surfers and those who want to soak in the sun while being secluded. The south side is not a nude-friendly beach, which is ideal for visitors.
We recommend adding this to your things to do in San Diego along with good brunch spots in town.
Amanda Harper is a travel enthusiast with 10+ years of traveling experience across the planet. Her passion for writing and travel makes her a walking bibliography on modern-day tourism.