We are committed to finding the best deals when traveling.
It's integral to how we approach settling into a new city and exploring it to our heart's content.
Now, in most situations, this means finding a reliable car rental company and setting aside funds for a rental car. When we came to Los Angeles, we were looking at transportation options including the transit system.
In the end, it came down to Uber vs a car rental in LA.
It's recommended to use Uber or Lyft in Los Angeles. Tourists can save hundreds of dollars by using a ride-share service in Los Angeles instead of a car rental. This is due to how the tourist attractions are located within the city making it easier to go with Uber or Lyft.
Our aim was to determine what the cost would be between different tourist attractions when in Los Angeles.
Here is a breakdown of Uber vs a car rental in Los Angeles and why we felt it was better to go with a ride-share company in LA.
Airport To The Hotel
Let's begin with our journey from the Los Angeles International Airport (LAX) to our hotel.
We were staying at Ramada By Wyndham in Hawthorne.
The trip was approximately 5 miles from the airport.
We felt it was best to go with Uber for this trip as it was going to be challenging to find a car rental even if that was the direction we were going in. It felt right to quickly go on the Uber app, order a ride, and get to the hotel.
How much did it cost us?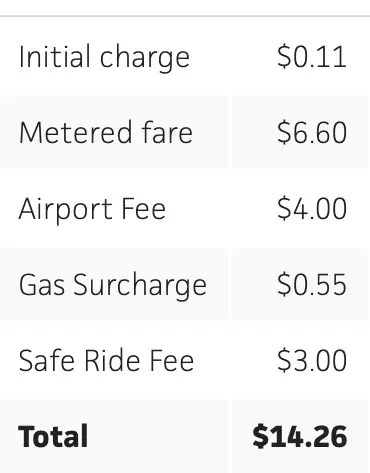 It came out to $14.26, which was a decent total and around what we expected for the ride. We felt this was a fair deal and something that would be reasonable if we were to explore the rest of the city.
How Much Is A Car Rental In LA?
Before we dig deeper into the expenses of using an Uber in Los Angeles, it's essential to also know how much a rental car is in LA.
In general, the rates will vary depending on the car rental service you are going with.
In our experience, we asked around and received estimates that were around $400 + fuel costs. This meant we had to budget for around $500.
Keep this number in mind as we look at the times we needed a ride in Los Angeles.
Griffith Observatory
The first place we wanted to visit was Griffith Observatory.
This charming place is heralded for its fascinating sights and exploring the area is quite the experience. I would highly recommend this to anyone that wants to make the most of their trip to LA. If you don't have this on your list, you are missing out!
Well, the day we went to the Griffith Observatory was not as busy making it easier to look around and make the most of our time there.
How much did it cost to go back and forth?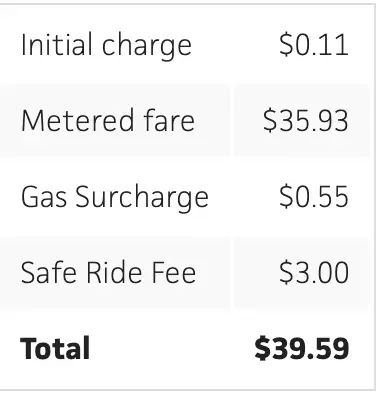 This was one-way.
We had to pay $39.59 to get to the Griffith Observatory. It was a 23-mile trip, which meant the rate was also going to be higher than some of the other trips on the itinerary.
At this point, the rental car vs Uber debate was making us nervous. Perhaps, we should have got the rental car?
This was a question we had on our minds but we persevered.
The time spent at the Griffith Observatory made us forget about our costs.
Hollywood Sign
Now, it was time to head to the famous Hollywood sign.
We wanted to see what all the fuss was about. Was it worth the hype?
It was an interesting experience and we did enjoy looking at the Hollywood sign and taking a few pictures while we were there. It was interesting to make the most of our time in LA and realize the Hollywood sign was not the most important attraction but still a good one to cross off the list!
How much did it cost?
This was a shorter trip, which meant it was not going to cost as much as getting to The Griffith Observatory from our hotel.
This 5-mile trip was a short and sweet one that allowed us to take a look at the Hollywood sign.
Urban Light
When it started getting dark out, we knew it was time to head to the Urban Light.
These mesmerizing lights are an exceptional experience that can be hard to put into words. Most people are going to fall in love with the charm of these lights and you can take a few pictures while you are there too.
Once the sun had set, we had a lovely time but there were others that were doing the same. It was busy when we went but a lot of fun too.
How much did it cost?
This was another short trip that came out to be around 4 miles or so. This meant it didn't cost a lot to get from the Hollywood Sign to the Urban Light area.
We were able to get there quickly, which is surprising when you are sitting in LA traffic.
We also had to come back home now, which meant having to call Uber again.
This was a bit more pricey but we were pooped out by that time and just wanted to get back home to our bed.
Rodeo Drive
We wanted to look at one of the more prominent shopping areas in Los Angeles.
Rodeo Drive is often heralded for being a unique place that does bring people out from all parts of the world. We went there the next day on our short trip to Los Angeles.
Since we were only there for a couple of days, we wanted to check this one off too.
How much did it cost us?
This was a much longer trip as we had to go from our hotel to Rodeo Drive. We took the time to enjoy what we were doing there before coming back.
It's important to note, the cost here was x2 as we went back and forth.
This meant we had to pay $25.63 x 2 = $51.26.
We also went back to the airport after this, which meant we had to tack on an additional cost to get to LAX.
Cost Of Uber In LA
So, how much did it cost us?
LAX To The Hotel = $14.26
The Hotel To The Griffith Observatory = $39.59
The Griffith Observatory To The Hollywood Sign = $14.56
The Hollywood Sign To The Urban Light = $12.53
The Urban Light To The Hotel = $22.75
The Hotel To Rodeo Drive (And Back) = $51.26 ($25.63 x 2)
The Hotel To LAX = $14.26
This means the total cost was… $169.21.
As you can see, we saved quite a bit of money by going with Uber in LA. Otherwise, we would have had to pay around $500 just to get a car rental.
Final Thoughts
Is it cheaper to rent a car or Uber in Los Angeles?
It's cheaper to Uber in Los Angeles. The difference can be hundreds of dollars due to the added costs of managing a rental car in LA. It's better to go with Uber or Lyft in Los Angeles and save quite a bit of money along the way.
We highly recommended looking into LA ride-share companies when you are visiting as that is what worked for us.
Amanda Harper is a travel enthusiast with 10+ years of traveling experience across the planet. Her passion for writing and travel makes her a walking bibliography on modern-day tourism.