Watching a movie is always fun.
You might be planning a date in Los Angeles and the idea of watching a fun film might be on your mind. The best part about being in Tinseltown is there is a passion for movies unlike anywhere else and you will find top-grade theaters all around you.
You can end up finding good discount theaters in Los Angeles right away.
The best discount theaters in Los Angeles include the New Beverly Cinema, Sundance Cinemas, Highland Theaters, and Starlight Terrace Cinemas. These are premier discount theaters with great ambiance, top-quality screens, and friendly staff.
We believe these are the ultimate theaters to check out in the heart of LA. You are not going to be disappointed when you watch a movie here.
Let's break down some of the qualities of these great discount theaters in LA.
Top Discount Theaters In Los Angeles
New Beverly Cinema
Address – 7165 Beverly Blvd, Los Angeles, CA 90036
This is not Los Angeles from the 70s, it's a modern-day LA where the passion for movies is unparalleled. You will feel this passion when you walk into the New Beverly Cinema.
This gorgeous location is heralded because it is backed by Quentin Tarantino, which means it has the blessing of Hollywood. You can end up watching some of the finest movies in this theater and it is quite cozy inside too.
For those who are always down to watch a good flick, you are going to want to consider choosing this cinema. It's one of the best in the region and it is quite affordable at the same time. You are not going to be disappointed.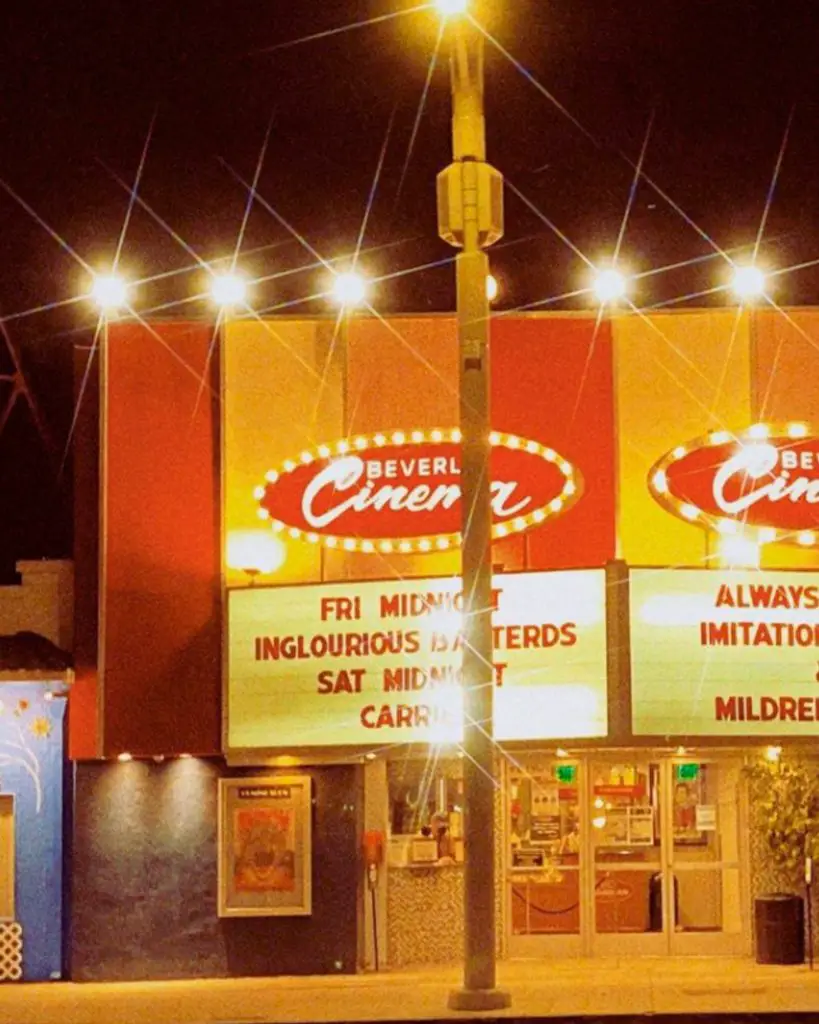 Sundance Cinemas
Address – 603 N La Cienega Blvd, West Hollywood, CA 90069
It's common for you to want to choose a theater that is comfortable, friendly, and offers gorgeous screens that make movie watching a blessing. If that is what you are after, we will want to recommend Sundance Cinemas.
This theater is world-class because it is affordable and you end up watching a variety of quality movies that play throughout the month.
It's even better for students that can watch movies at cheaper prices here. This is a great way to spend your free time in a safe part of LA and also have a lot of fun.
We believe this is a no-brainer for those who are in West Hollywood.
Highland Theaters
Address – 5604 N Figueroa St, Los Angeles, CA 90042
Imagine being able to walk into a theater and only pay $5 to watch a movie. This is possible for anyone that comes during the week at Highland Theaters.
This is the ultimate discount theater in LA and a good fit for those who are looking to find a good deal while watching their favorite movies.
There is nothing better than being able to pop over and watch a great movie at this price. As a result, it makes sense for us to put this theater on the list.
Starlight Terrace Cinemas
Address – 28901 S Western Ave, Rancho Palos Verdes, CA 90275
When you are looking at going to a theater that is well-designed, offers great menu items, and has large screens, you will want to take a peek at Starlight Terrace Cinemas.
What makes this such a good discount theater in LA?
You are going to have access to the Terraces Shopping Center, which also ensures you can walk around while getting ready for the movie. You will save money during the week on the ticket and even the rest of the week is quite affordable.
We feel this is a discount theater that does all the right things for avid movie lovers. You can come with family and friends knowing you are going to get a good deal here.
AMC Theaters in Century City
Address – 10250 Santa Monica Blvd #2000, Los Angeles, CA 90067
We know AMC Theaters is a major name but you are going to want to find a good deal, which is what you are going to get at this particular location in LA.
You can end up watching movies for less than $7 here during the week.
This is ideal for those who are in the region and just want to watch a good movie earlier in the day. AMC does things the right way, so you will know what you are walking into along with getting good seating.
The experience is never in doubt when you are going to the AMC Theaters in LA.
Final Thoughts
These are the best discount theaters in LA.
The best discount theaters in Los Angeles include Starlight Terrace Cinemas, Highland Theater, and Sundance Cinemas for those who want a well-refined experience at an affordable price. You are not going to be disappointed with these locations.
This is the charm of finding a great spot in LA.
You can watch a movie during the day and then head out to explore the rest of the city. There is so much to do in Los Angeles and you will not be disappointed with these early-day discount theaters.
Amanda Harper is a travel enthusiast with 10+ years of traveling experience across the planet. Her passion for writing and travel makes her a walking bibliography on modern-day tourism.