If you are going backpacking in Korea, it's common to want to check out the local historical sites including the beautiful Korean palaces.
Whether you're living in Korea or visiting, it is always nice to go to the Korean palaces. They are full of beauty, charm, and are also a grand experience for those who have never been there before.
We find this to be a fascinating part of any trip to Korea.
Our goal was to check out the grand palaces in Korea and see what they are all about. This includes our thoughts on each palace in Korea and what it is able to offer.
Here is our take on the top palaces in Korea right now.
Top Palaces In Korea
Gyeonghuigung Palace
This is often appreciated as being a bit of a hidden gem among the palaces of Korea.
The Gyeonghuigung Palace is appreciated because of its natural beauty, elegance, and historical importance due to it being built in the 1600s. As soon as you arrive here, you are going to be mesmerized by how intricate the architecture is.
It's going to enthrall you.
The palace was designed for King Gwanghaegun and is quite a remarkable sight in this day and age. While it is not the same as it was during the 1600s, it is still one of the most fascinating sights in all of Korea.
We loved the idea of walking around and just taking in the beauty of this palace.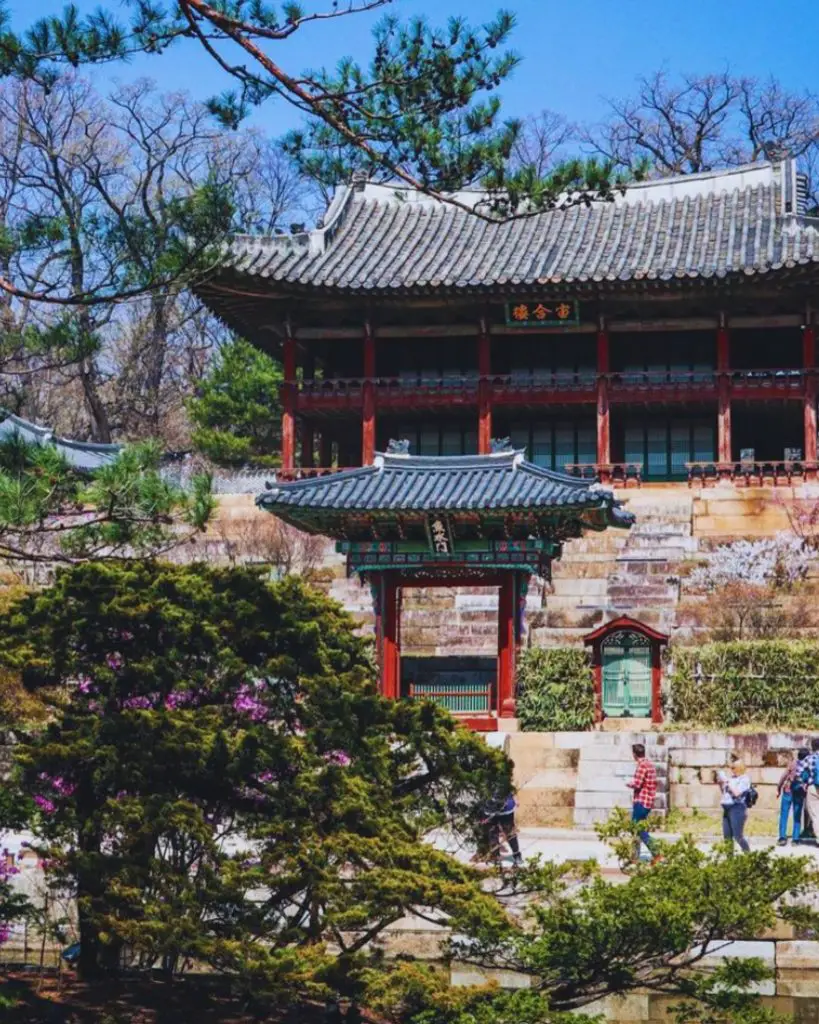 Gyeongbokgung Palace
The Gyeongbokgung Palace is a masterpiece when it comes to history, beauty, and overall ambiance.
It is a palace that is mammoth in size and has been around since the 1300s. It was designed in the late 1300s and it was done as a way to showcase the heart of Korea. It was a symbol at the time of the nation's growth and development in the region and it continues to be a heralded site in the country.
It's important to note that it's best to go on a weekday if you are willing to pay. This is a well-visited palace and that is going to mean you are going to have company. However, it is well worth your time and it is an experience you are going to want to have in Korea.
Take the time to go to this palace in Seoul and make the most of it.
Deoksugung Palace
The Deoksugung Palace was designed during the late 1500s and has been around ever since while being maintained by the Seoul government.
Due to its location in the heart of Seoul, you are often going to have people visiting this grand palace. It is well worth your time because it has a tremendous amount of history dripping from every inch of the site. You are going to realize this as soon as you begin to walk inside.
The palace is also charming because of its unique architecture with the use of stone. It is something you are going to appreciate and you will also get to learn a lot about King Seonjo while you are here.
Changgyeonggung Palace
This palace is a riveting one and it is associated with King Sejong.
At the time, this was designed as a place for the King to rest and enjoy life. He was able to have various people stay here and it was seen as a place that was dear to his heart during the 1400s.
It was designed with a purpose and it is also a palace that was targeted various times. It was seen as an important site in Korea, which meant it was also targeted in wars. This is something you are going to notice with certain areas having been reconstructed over time.
For us, it is still a beautiful palace and one you are going to want to check out in greater detail.
It is the overall ambiance of the garden and how it wraps around the palace that's going to captivate you instantly.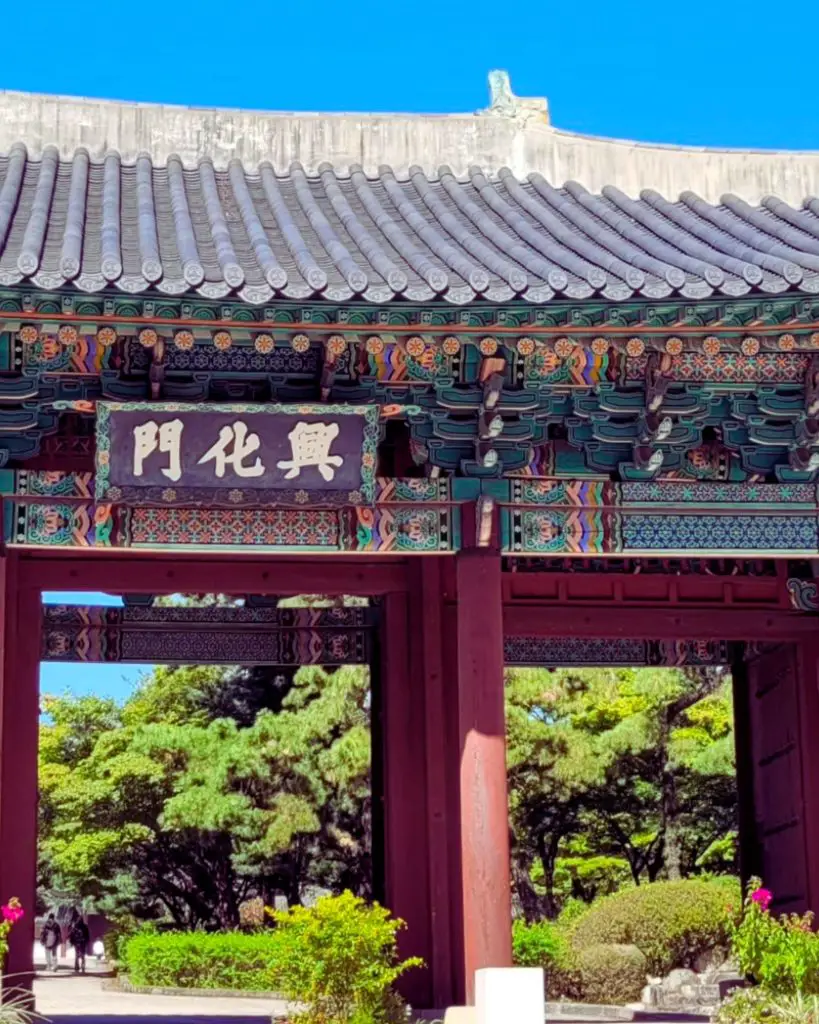 Changdeokgung Palace
The final grand palace on this list is going to be the revered Changdeokgung Palace.
This is a fascinating palace that was designed and constructed in the early 1400s and it was quite the sight at the time. Of course, this meant it went through several changes due to the damage the palace took during wars with Japan.
However, it is still a remarkable sight because it has been redesigned over time and reworked. You still get to appreciate its overall atmosphere and how it looks. As you are walking through, you are going to appreciate the royal touches that are seen everywhere on the premises.
For us, we adored the visit from start to finish.
We took the time to walk around the garden and also explore the corridors. This added to the overall flair of the location and it was fun.
Expat Tips For Visiting The Palaces In Korea
Go On A Long Weekend
We know most tourists are going to have a set itinerary when it comes to visiting the palaces in Korea.
If you have a choice, it's best to go on a long weekend. This is when you are going to get in free, but it is going to be tough when it comes to the number of people that are present. Most people want to go for free and they are also going to be taking advantage of the deal.
If you are willing to pay, go on a weekday.
If you want to go for free then it's best to head out on a long weekend.
Go With A Guide
Most tourists are not going to get a comprehensive look at a palace when they go on their own.
Why is that?
You are not going to know about the hidden gems within the palace or its history. A guide can help with this and there are numerous tours that are taken of the palaces. You will want to sign up for one of these tours with an English-speaking guide.
They will take the time to go through the details for you.
Wear The Local Attire
We do recommend taking the time to put on a hanbok.
Yes, this is going to add to your experience and it's also possible to get in free of cost while wearing the hanbok.
This is great for those who want to feel like a local while walking around.
Go Earlier In The Day
You should be aiming to go earlier in the day.
Why is that?
It is going to be less crowded and you are going to get enough time to walk around. If not, you will not be allowed to go in or you are going to be hurried out later. It is best to avoid this.
Final Thoughts
These are the best palaces in Korea.
When you aren't hiking near Mount Hallasan in Korea, it's always good to put a few of these grand palaces on your list.
The experience is going to be well worth it in our eyes.
Feel free to also go through our list of top ski resorts in Korea, eating Korean BBQ, and the top saunas in Korea.
Amanda Harper is a travel enthusiast with 10+ years of traveling experience across the planet. Her passion for writing and travel makes her a walking bibliography on modern-day tourism.