The joy of spending time in New York City is hard to beat.
While most people are going to be drinking in New York while partying, there is a lot more to the city including the world's finest cafes.
For those who are going to be looking for the best coffee in Midtown NY, it's essential to break down which shops stand out.
We have spent months here and know which shops are going to win you over instantly.
Here are the best coffee shops in Midtown NY for coffee enthusiasts.
Best Coffee Shops In Midtown New York
Cafe Grumpy
The name is going to stand out as soon as you walk by this beautiful location in Midtown NY.
While Cafe Grumpy might make you believe it's a sour spot that is not worth your time, it is anything but grumpy. You are going to be beaming ear-to-ear when spending time here because the quality of the coffee is exceptional.
The roasted coffee beans used here are some of the best in all of New York City.
We find the quality to be exceptional and it is going to be as consistent as you want it to be.
Gregorys Coffee
When it comes to keeping things simple and quick, you are going to adore Gregorys Coffee.
This is a good coffee shop in New York that is going to win you over because of how good its service is. The staff is welcoming and the coffee beans they use are aromatic.
We adored spending time here because it was a quaint shop that was doing well for itself.
Cha Cha Matcha
If you are going to be coming to Cha Cha Matcha then it's essential to look at the quality matcha drinks that are served here.
We were in awe.
The quality of the matcha was impressive and so was the speed of the service. This is a great staff that is on top of things and the environment is also clean. We believe this is one of the best cafes in Midtown NY.
Joe Coffee Company
Joe Coffee Company offers a slew of coffee variations that are going to keep you coming back to this delightful location.
We liked this experience because the coffee was good and you were also able to walk out to the park nearby.
This made it a lot easier for us during the summer to have a good time. It is always nice to sit down and people-watch while drinking a good cup of coffee from this location.
Ground Central Coffee Company
The aromatic ambiance of Ground Central Coffee Company is hard to beat.
This is one of the most welcoming environments because people will often come to relax in this serene location. The coffee is great and you are also going to have access to a long list of goodies that are going to go well with the coffee.
If you want a traditional experience then you are going to like what this cafe has to offer.
Partners Coffee Roasters
This is a modern coffee shop if there ever was one in the region.
You are going to realize this as soon as you walk through the front door.
Partners Coffee Roasters has good coffee and it is set up in a hall. This means you are going to have ample space and it is a lot of fun to go here.
Bluestone Lane
Bluestone Lane is all about good-tasting coffee and you are going to realize this as soon as you are ready to place an order.
We enjoyed a hot cup of coffee and they also had good food items for those who were hungry. We find this to be good when you are coming to the location during the day and want a quick bite to go along with the coffee.
This includes salad and/or baked items.
Blue Bottle Coffee
Blue Bottle Coffee is a popular name for locals.
This is a gorgeous coffee shop that has been set up at 52nd Street and is a great choice for those who are looking to grab a hot cup of coffee as soon as they walk in.
The service is quick, friendly, and in line with modern standards.
Remi Flowers And Coffee
Remi Flowers and Coffee is going to be a fantastic experience for you.
We found the coffee to be great and well-rounded. This had to do with the punchy aroma and how welcoming the staff was to our requirements.
This does matter for those who are particular about their coffee and this is a team that took care of us.
The overall vibe of the location is great and ideal for those who want the best.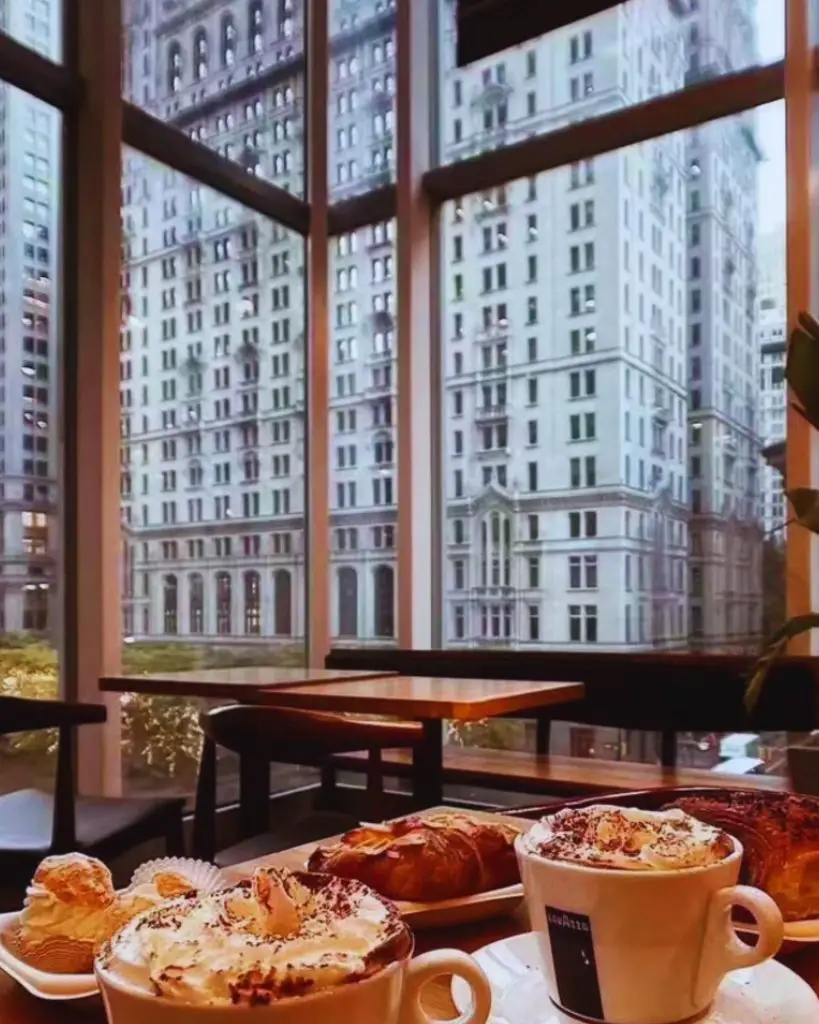 Pennylane Coffee
Pennylane Coffee is one of the more relaxing spots in town.
We adored this because the table was set up in a way where everyone could relax and there was ample space. It just felt like something different from the rest of the cafes on this list.
If you want something more social and welcoming then you are going to adore what Pennylane Coffee is all about.
It's clean, fun, and unique.
Plus, the coffee is great!
Zibetto Espresso Bar
Zibetto Espresso Bar is all about providing Italian coffee with a twist.
You are going to gain access to premier Italian coffee that is going to feel like you have ordered it on the streets of Rome at a local cafe.
Yes, it is that good.
We do recommend getting the espresso here.
Final Thoughts
These are our favorite coffee shops in Midtown NY.
These Midtown NY coffee shops are the real deal with great treats, quality coffee, and a wide array of options. In an expensive city like New York, you will know finding good coffee is a must.
We find these to be the best in the region.
We also recommend looking at the best coffee shops in Scottsdale for those who are going to Arizona.
Amanda Harper is a travel enthusiast with 10+ years of traveling experience across the planet. Her passion for writing and travel makes her a walking bibliography on modern-day tourism.