From the allure of Chinatown in Los Angeles to the calmness of La Crescenta in Los Angeles, this is a bustling city with ample life, vibrance, and quality.
Among this selection of neighborhoods is another popular one – North Hollywood.
North Hollywood in Los Angeles is a fascinating region and is often called "NoHo" by the locals. It's authentic, diverse, and has all of the qualities a person looks for when it comes to a major city neighborhood.
NoHo in Los Angeles has become a staple for those who want to get a real look into life in this beautiful city. It offers a selection of quality joints including eateries, bars, theaters, and more. Whatever a person wants to do, they are going to find it here.
While most will be on the hunt for Los Angeles waterfalls, this is home to some of the finest comedy clubs in Los Angeles along with premier galleries.
Let's take a look at what North Hollywood in LA is all about as a neighborhood.
Layout Of North Hollywood In Los Angeles
North Hollywood is a charming, illustrious neighborhood that's synonymous with everything Los Angeles is renowned for.
This includes welcoming people, diversity, entertainment, and of course beautiful weather. The neighborhood offers access to the revered Arts District and is ideal for those who want to have quality access to comedy clubs, bars, and more.
It's close to the mountain and offers access to Griffith Park, which gives it a unique vibe. It's normal for people to want to spend time here as a way to relax and enjoy fun-filled activities that are closer to home.
Creative heads will often be found here because of its galleries and theaters, which makes it the place to be for those who want to entertain themselves.
Demographics Of North Hollywood
North Hollywood is known for having a substantial Latino community compared to the rest of Los Angeles.
It has a thriving and diverse community with people from all walks of life. However, the Latino community does stand out as having the most representation in this lively neighborhood. Along with being diverse, the city has a younger age distribution compared to other locations.
The median age is just 30 in this part of Los Angeles, which is lower than some of the other renowned regions of Los Angeles.
A lot of single individuals reside here as it is known for being a place where people live as they enter Los Angeles or live on their own.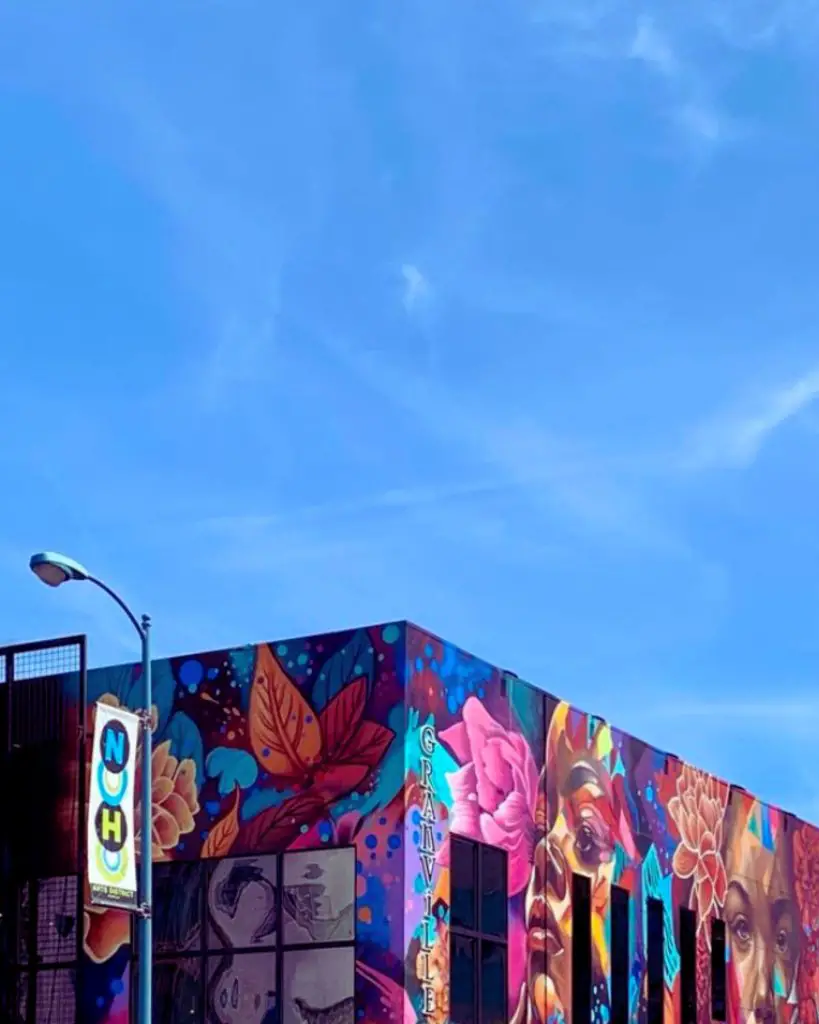 Culture Of North Hollywood
North Hollywood has a unique culture in comparison to other parts of LA.
This has to do with focusing on the overall community vibe while still offering a selection of entertainment options wherever you go. Everything is within a small space allowing for people to hop from one place to another easily.
This adds to the overall vibe of NoHo and how it resonates with the locals.
You will often see people of all ages stop over at these entertainment spots around North Hollywood. Whether it is couples or individuals, everyone is looking to have fun here and it is a great spot to be for that kind of entertainment.
Along with these options, there are top-tier boutiques spread through NoHo along with the beautiful galleries for art buffs.
it's common for people to venture out to NoHo when looking to catch a show at one of the local theaters. At one point, this was known as the hub for Los Angeles theaters and it was normal for people to want to spend time here when they were hoping to catch an entertaining live show.
The same applies to this day as more and more theaters have been set up in this part of Los Angeles for the locals to enjoy.
Income In North Hollywood
North Hollywood tends to be a good middle-class neighborhood with people from all parts of Los Angeles congregating for entertainment purposes.
This includes students, young adults, and others.
The average income for a household here is around $63,000.
Final Thoughts
This is the allure of North Hollywood and what makes it special for locals.
There is nothing better than a quality neighborhood with good eateries, quality people, and of course loads of entertainment options.
If that is what you are looking for, you are going to be impressed by NoHo.
This is a stylish neighborhood that is not going to bore you anytime soon.
Amanda Harper is a travel enthusiast with 10+ years of traveling experience across the planet. Her passion for writing and travel makes her a walking bibliography on modern-day tourism.