We have explored Tenderloin in San Francisco and Inner Richmond in San Francisco, but it's always nice to check out specific streets that stand out.
One of those streets has to be the gorgeous Lombard Street.
This is a charming street that is often mentioned by locals due to its design. It is set up in a way where it is known as the Zig Zag Road in San Francisco. It is designed like this due to the hills and the need to make sure traffic goes through smoothly.
If it was kept in a straight line, it would be steep and difficult to navigate.
As a result, you have what is now the gorgeous Zig Zag Road of San Francisco in the form of Lombard Street.
While most people will talk about red wines in California or white wines in California, we like to mix things up from time to time in the form of finding unique streets such as these!
Here is our take on the beautiful Lombard Street in San Francisco.
Where is Lombard Street In San Francisco?
It is located at Lombard Street, San Francisco, CA 94133, USA.
It's close to the Marina District and Union Street.
Best Time To Go To Zig Zag Street In San Francisco
If you are planning on visiting Lombard Street in San Francisco then you will want to also think about your schedule.
People can make mistakes in this regard.
One mistake is to go on the weekend. It is going to be too busy on the weekend as a lot of people will want to come out and drive down this street. It can become impossible to find a parking spot.
We recommend going when it's cooler and during the week.
This is when the traffic is going to be more reasonable even if it is a sunny day.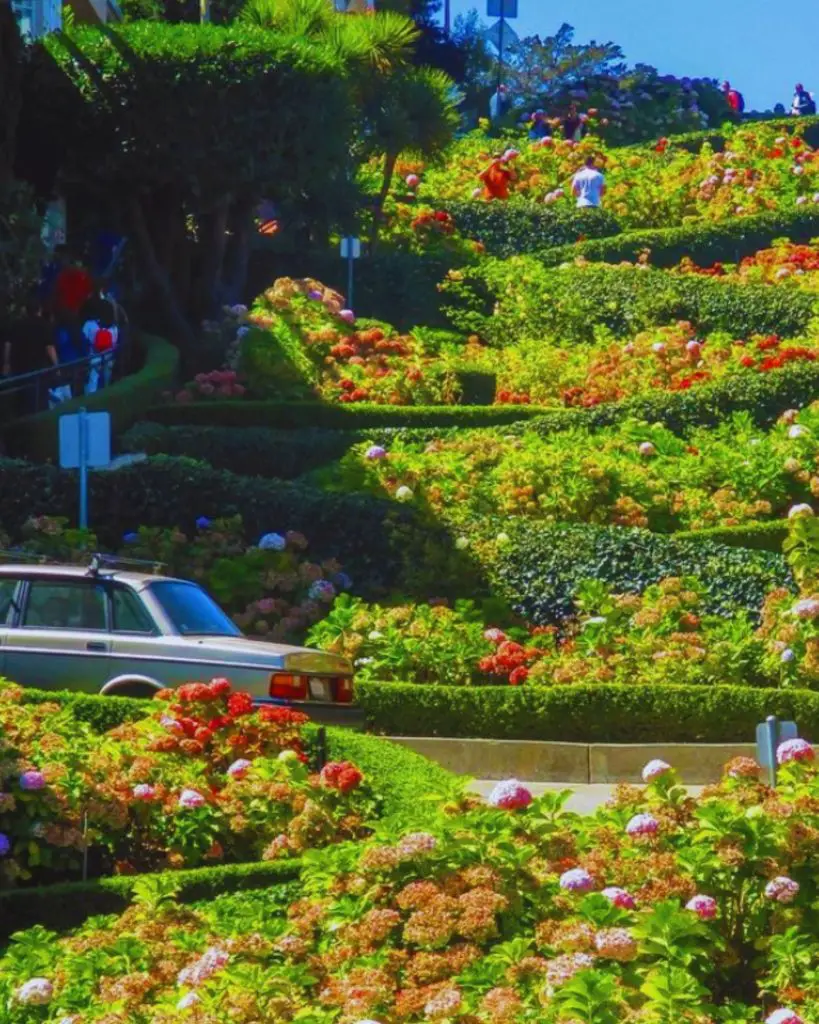 How To Get To Lombard Street In San Francisco
Let's assume you are thinking about going to the Zig Zag Road in San Francisco.
If you are planning to do this, you are going to have a few options for enjoying the hilly street. The main option is going to be to take your car down this street and experience it for yourself. It is a unique experience to drive with the various turns.
We took our car and it was a great experience. If you can do this, it is one of the best ways of going to this street in San Francisco.
If you don't have this option, we would take the sightseeing bus as there is a route that goes down this street. It is designed as a way for you to get to explore the region and also enjoy this route during the tour itself. A lot of tourists will take a right on the sightseeing bus and get to see a wide array of attractions without having to get behind the wheel.
Another option is to take a regular bus.
You can take the route that will go down this street and it will allow you to enjoy the experience from a regular bus at a more affordable price.
If you want to mix things up a bit, we would also recommend taking the Powell-Hyde Cable Car. This is a cable car that runs through the street and is going to let you make the most of the experience uniquely. It is fun being on the cable car whenever you do get the chance.
The last option is to simply walk.
Yes, this is free and it's going to allow you to soak in the sights on Lombard Street at the same time. Please note that this is going to be tiring and you will want to wear the appropriate footwear.
It's common for people to stop at the top and soak in the view. We loved stopping at this part of Lombard Street because it was fascinating and offered a tremendous view from the top of the hill.
You should be able to find a parking spot close to Lombard Street. A lot of people will want to get out of their vehicle and walk around but you will want to get there early or you are not going to find a spot. It's always hit or miss.
Tips For Going To San Francisco's Lombard Street
Choose The Free Option
The one thing we have noticed has to do with how cost-effective Lombard Street Is. It is not going to cost a penny and you will be able to walk/drive around to your heart's content.
Of course, if you take the time to go on a sightseeing bus or a cable car then you are going to pay for the ticket to get on.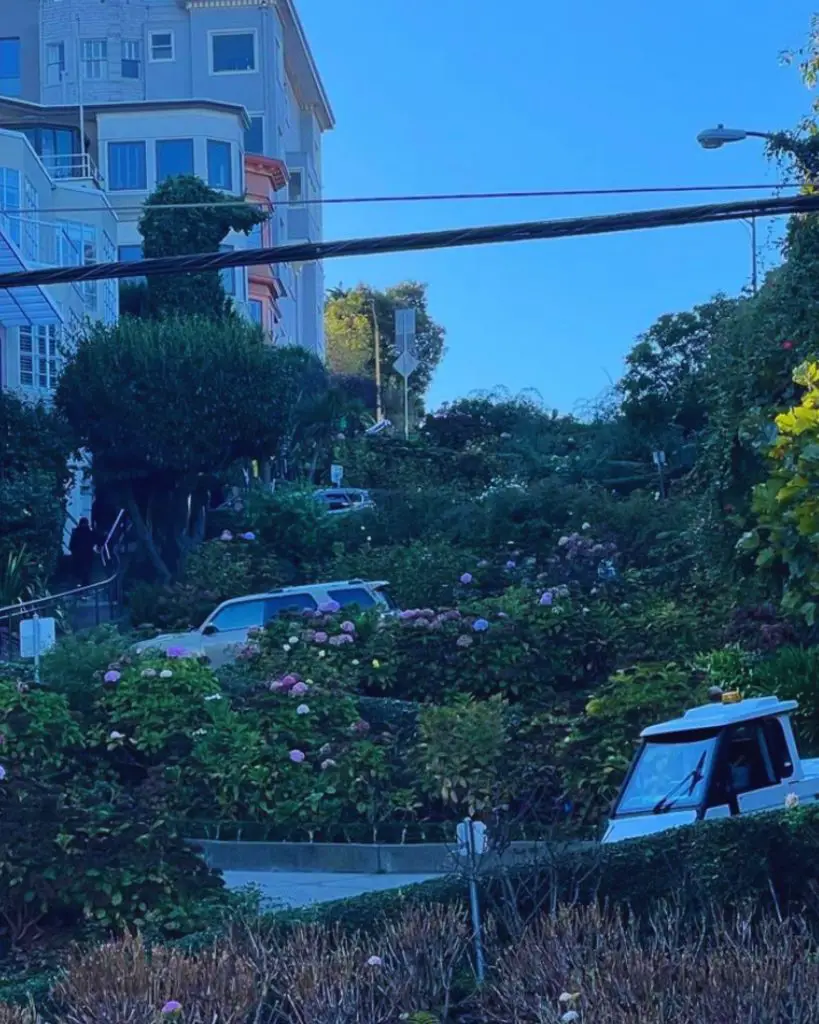 Don't Go In The Late Afternoon
This is a bad idea regardless of which day you are going on.
We noticed people were going in the late afternoon and it was jam-packed on the street. This is not good because people are taking the street to get back home from work. Some people live on the street, so it is too congested when that happens.
The locals don't appreciate it and you won't either!
Don't Go At Night
Some tourists will assume it's okay to drive down the street at night.
While there is nothing illegal about doing this, it's not ideal for the residents who live there. They are not going to appreciate you zooming down the street in the early hours of the morning. If you are going to do this, please be quiet.
Final Thoughts
This is all you need to know about the curvy road in San Francisco.
It's a memorable experience and something you are going to want to do when you are in town. It's an unusual experience but one that is worth it!
Feel free to also look at the scary hotels in California and drinking in California.
Amanda Harper is a travel enthusiast with 10+ years of traveling experience across the planet. Her passion for writing and travel makes her a walking bibliography on modern-day tourism.